Ethnic / Ambient / Psychedelic
Folkestone
c.1992
Band Members
Edit
Jon Lawrence (didgeridoo)
Richard Cron (?)
others unknown - please update
The Flow was a didgeridoo-based recording project, involving members of The Trees / The Elements. A 90 minute self-titled cassete was released in 1992, featuring 12 untitled tracks of nature sounds mixed with psychedelic ethnic/folk music, all underlaid by the hypnotic organic drone of the didgeridoo. In terms of atmosphere and aesthestics, the music was very similar to what Whitstable's Crow were doing around the same time (albeit without the heavier punk/hardcore influences).
Related Bands
Edit
'The Flow' cassette (1992)
Edit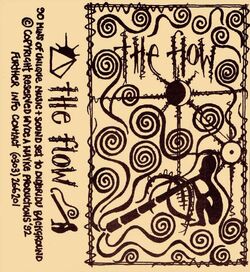 12 untitled tracks. Released by Wyde A Wayke Productions.
Community content is available under
CC-BY-SA
unless otherwise noted.