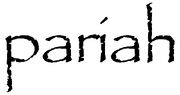 Nu-Metal
Sittingbourne
1996-2000 (2016 reunion)
Warren Carey (guitars)
Alex Holton (guitars)
Pete Jackson (guitars & backing vocals)
Nick Hannon (bass)
Jim Cole (drums)
Pariah were a five piece nu-metal band from Sittingbourne formed in 1996. They toured in 1999 locally and were reknowned as the resident band at Sittingbourne based festival 'JimFest', The band formed part of Kent nu-metal scene and performed with Lounge:Fly on several occasions and were friends with them. The band recorded one EP at Langlei Studios and recorded a second EP in 2000 which was never released. The band split in 2000 but reformed in 2016 for a JimFest 'Woodystock' special in tribute to the death of their vocalist Mark Wood for whom the festival was named after. 
Related Bands

Edit
Sons of Alpha Centauri - Nick
Recordings
Edit
EP (1998)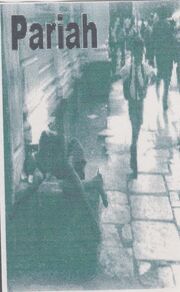 Bounce
Uterus Fuzz
Burn
recorded at Langlei Studios, December 1998 by Duncan Jordan
JimFest, Sittingbourne (July 1998)
Highsted with Rapeseed (June 1999)
Battle of the Bands, Sittingbourne Leisure Centre with Downtown Remedy, Rapeseed (July 1999)
Rainham Oast House with Lounge:Fly (July 1999)
Frinstead Hall with Six Stage Suicide (August 1999)
Cherry Suites, Sittingbourne (October 1999)
JimFest with Martin, Sittingbourne (July 2000)
Community content is available under
CC-BY-SA
unless otherwise noted.