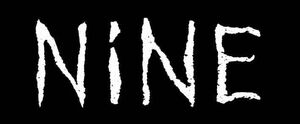 Progressive Hardcore / Alt-Rock
Whitstable, Kent
1996-1997
Band Members
Edit
Chris Clark (guitar + vocals)
Jamie Godman (bass + vocals)
Martin Stedman (drums + vocals)

Occasional members:
Mark Dixon (didgeridoo + vocals)
Marty (keyboards + sequencing)
Nine was formed from the ashes of Crow , who had split the previous year. Nine was harder and darker than Crow, ditching the somewhat dated hippy imagery and replacing it with a tense, pre-millennial edge that nonetheless still contained elements of the Crow sound and spirit. In many ways it was more a continuation of previous outfit Door Marked Summer , as well as the associated Summer Love Sensation , since the original Nine lineup was a combination of the two.
Nine's dynamic sound was built with Progressive hardcore guitar underlaid with Dub-Punk basslines, with drumming that ranged from tribal Hardcore Punk to almost breakbeat rhythms. Their gigs invariably began with the heavier songs, then progressed to more danceable epics towards the end.
After a hiatus of about a year, the band members reformed in 1999 with a whole new set as Chromosome , with a less hardcore and more electronic sound.
Related Bands
Edit
A-Bomb - Dom
The Ruins - Dom
The Raisins - Dom
Epidemic - Dom
IT - Martin, Daryn
Basic Love - Martin
Door Marked Summer - Chris, Jamie, Martin, Dom, Mark
Crow - Chris, Martin, Mark
Headrush - Chris
Summer Love Sensation - Chris, Martin, Lee, Jamie
Tangle - Martin, Daryn, Mark
Carpe Diem - Mark
Blabbermouth - Toby
Chromosome - Chris, Jamie, Martin, Dom
Templemer - Chris, Dom
The Shilling Whores - Dom
Thunderhorse - Chris, Lee, Dom
Demo 1996
Edit
Why?
Brave
Cancer Rising
Recorded 1996 at Elsewhere Studios, Whitstable. Engineered by Rob Williams.
Click on (POSTER) for poster/flyer
03/05/96 - Whitstable, Assembly Rooms (+ 51st State )
21/06/96 - Whitstable, Assembly Rooms (+ Jesus Fix )
20/02/97 - Canterbury, Rutherford, UKC
21/03/97 - Whitstable, St. Mary's Hall (+ Tangle )
02/08/97 - Whitstable, Tankerton Arms