Psychedelic Post-Punk / Alternative
Whitstable, Kent
1987-1991?
Band Members
Edit
Chris Clark (guitar + vocals)
Mark Dixon (didgeridoo + keyboards)
Trevor Atkins (bass) 1987-1989
Taking their name from a book on spirituality by Michael Bentine, Door Marked Summer evolved from earlier experimental/psych-punk bands IT and Basic Love . Heavily influenced by hard-hitting post-punk acts such as Killing Joke and Swans, their noisy psychedelic tendencies gained them a reputation throughout the local alternative scene, which was later further complimented by the addition of second drummer Dom Clark. The collective's often chaotic gigs (many at squat parties) occasionally saw members of the audience joining in the tribal percussion using beer kegs. The band also occasionally played a more Dub-heavy set under the name DMS In Dub.
Door Marked Summer later evolved into Crow , who took the Prog/Psych elements to new levels.
Fun Fact #1: In 1989, free UK paper "Making Music" included Door Marked Summer in a list of "Worst Band Names".
Fun Fact #2: Legendary UK radio DJ John Peel invited the band to record a session after hearing the "Psychic Surfing" tape. Unfortunately, they lost the contact phone number...
Related Bands
Edit
'Psychic Surfing' cassette 1990
Edit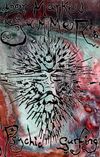 Side 1
(intro)
We Are The Lies
Built Up Area
Behind The Mask
Head Study
Put Me Down
Side 2
Dance Around Your Head
Slow Rush
Force
(outro)
(untitled instrumental)

There is some confusion regarding the tracklisting -- there appears to be too many titles on Side 1 for the actual tracks, and an untitled track after the outro on Side 2. Can anyone clear this up?
Recorded at Elsewhere Studios. Engineered by Rob Williams.
Click on (POSTER) for poster/flyer
??/02/88 - Whitstable, Labour Club
??/03/88 - Folkestone, Bottoms
07/07/88 - Canterbury, Art College (supp. The Raisins + Somebody Elses Problem)
15/09/88 - Whitstable, Assembly Rooms (supp. Doryie Drow)
21/10/88 - Whitstable, Assembly Rooms (+ The Trees + T.V Cabbage Disco)
21/12/88 - Whitstable, Assembly Rooms (+ The Trees)
??/01/89 - Canterbury, Art College
??/??/?? - Eastbourne, Archery Tavern (supp. Citizen Fish)
19/08/89 - Herne Bay, Kings Hall (+ The Shadey Gentlemen) (POSTER)
17/02/90 - Whitstable, Assembly Rooms (+ Moonweed + Seventh Seal + Bowl Territory) (POSTER)
01/05/90 - Canterbury, Art College (+ Mangow Soundsystem)
Community content is available under
CC-BY-SA
unless otherwise noted.