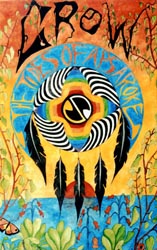 Tracklisting
Edit
Side 1 'Tonal Side':
Thunderbird
So Very Old
Mean Nothing, Say Nothing
Testosterone
What Do You Want
Side 2 'Nagual Side':
Apsaroke
Sedation
No Reaction (Still)
Analyse, Synthesize
Trance
Recorded on the Summer Solstice of 1993 at Notability Music, Margate. Engineered by Brian Gould.
Description
Edit
'The Tides Of Apsaroke' is where things really start to take off. The song structures become generally more progressive, the contrasts between the heavier and quieter moments are more defined, and the production is clearer. Chris' guitar sound is more polarized, switching effortlessly between a heavier Hardcore grind and a chiming crystalline clean-tone. The album is split into two halves, the tracks on the 'Tonal' side tending to be heavier, whilst the 'Nagual' side is orientated more towards atmospheric Progressive Rock. Personal favourites are "Mean Nothing, Say Nothing", a heavy Hardcore/Thrash instrumental with a strirring progressive mid-section, and "Apsaroke", a drifting piece of atmospheric Prog Rock that builds up to a heavier ending.
Community content is available under
CC-BY-SA
unless otherwise noted.