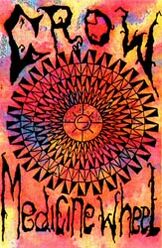 Tracklisting
Edit
Side 1:
Ayermandominar
Led Zep
Poppy Fields
Circles
Side 2:
E-Mosh
N N 1
Conditioning
Recorded on the Full Moon of July 1992 at Elsewhere Studios, Whitstable. Engineered by Rob Williams.
Description
Edit
The music on 'Medicine Wheel' is very much in Hawkwind / Ozrics territory, with delay-and-wah-ridden Trance-Rock guitar riffs over hypnotic tribal drumming, and simple vocal mantras and chants for vocals. Standout tracks for me are the two epic tribal workouts "Circles" and "Conditioning", one a brooding piece underlaid by Mark's didgeridoo, the other a hypnotic build-up to a stunning climax.
Community content is available under
CC-BY-SA
unless otherwise noted.